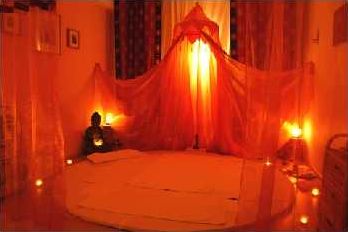 We are a community of sophisticated, charming and sympathetic women in Munich between 20 and 48 years with a lot of warmth and understanding. We are united by our love of people, our passion for bodywork and our pleasure in massaging and pampering. We enjoy bringing sensuality into your everyday life. For us touch and eroticism is a natural and powerful aspect of life, which contributes a great deal to the joie de vivre and health.
We are self-employed women who have rented themselves in the Temple of Touch (4x in Munich!) In order to jointly offer you a wide range of opportunities under one roof.
Our varied offer ranges from sensual, erotic and tantric massages, to wellness massages of all kinds, to tantra courses, life coaching and a range of spiritual offerings. We hope, with this abundance and richness of nuances to meet the different ideas and needs.
Just as different as we women are, so different is our way of responding to your individual wishes.
To prevent misunderstandings, we would like to point out once again that this means neither sex nor oral sex (GV / OV).
Massage is one of the most beautiful ways to give each other health. Our hands have their own language, with which they express closeness, trust and love. Physical touch can be mystical experiences. Every bodily touch is also a caress for the soul.
Our knowing hands will touch you sensitively and read mindfully the signals of your body. They send you on a journey inside and accompany you carefully.
Be a woman, be a man, be a man, be you!
Trust in our loving hands.
We cordially invite you to visit our temple in Westend or in Obersendling in Munich and look forward to seeing you.
Everyone is welcome!
We massage women, men and couples.
our philosophy
We know about the deep human yearning for touch and closeness.
They are the original source of our well-being and contribute significantly to the health and balance of human beings.
What if a person does not have a fulfilling relationship with a partner and a partner who opposes the red-light milieu with its sexually-impersonated imitation?
What possibilities are there for him to experience a truly nourishing and pleasurable encounter and not to be cut off from the salutary power of eros? For this purpose, our temple offers tantric or pampering massages for men and women, in which the intimate area can be included and on request may culminate.
Two people meet each other with respect and respect in a protected space in which the limits are met.
Sex or oral sex takes place under no circumstances. It is much more a real peace, which always encloses body and soul.
Ostensibly human attention, unrestricted attention, touch, warmth, closeness, tenderness, be taken and kept in the arm.
In this area, there is a great shortage in our supposedly sexually liberated society, which provokes sex addiction and other sorrowful compulsions with its commerce.
There are a lot of singles, single elderly people, handicapped people or people who live in a committed relationship but for whatever reason have a need in this area.
For these people, it is a piece of quality of life and of great importance that your desire to be touched and to be buried must not be an unfulfilled dream.
These people are also entitled to this pleasant aspect of life.
The time is ripe to unite and offer tantric and erotic massages together with wellness massages, life coaching, courses and seminars on health, spirituality and joie de vivre under one roof.
New ways are created by walking them.
We look forward to seeing you in Munich in the Temple of Touch.